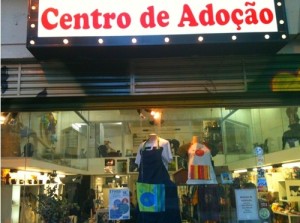 Associação Natureza em Forma (Nature in Shape Association) works straight with animals in risk and suffering situations, by taking care, recovering and replacing. They are several species that have their lives transformed.
In addition to the Adoption Center of rescued animals, our main activity, we promote castration actions, have veterinary clinic with surgery room and do identification by RGA (animal general register) and vegan grooming.
Our main goal is to involve you, not only with the animal cause, but also with the decision of living a healthy and BALANCED life.
All of this is made possible thanks to our volunteers and partners such as Matilha Cultural, Celebridade Vira-Lata, and São Paulo Zoonosis Control Center, as well as the participation in ecological and cultural events.
Get to know our work, come visit us at the Adoption Center, the only one in Latin America where EVERYTHING is reverted for the animal cause.
Adoption Center
(55 11) 3151-2536 / 3151-4885 / 7766-1559 (Nextel)
General Jardim Street, 234/240
República – São Paulo
Opened from Tuesdays to Sundays and holidays, from 10 am to 8 pm
Be a partner as well and join us in the animal cause!